Roll over image to zoom in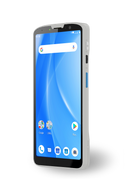 Description
The unitech EA630 is a 6-inch rugged mobile smartphone offering 80% screen to body ratio, featuring versatile functionality with powerful data collection. Specially designed for portability, the EA630 is combined with a compact and durable design that makes it an ideal tool to increase higher efficiency for applications in the retail, hospitality and light-duty Field Service.
Features

6-inch rugged smartphone with a screen-to-body ratio of over 80%
Android 9.0 OS with GMS & AER Certification
All-In-One functionality: 2D Imager, HF/NFC and 16MP camera
Rugged: Corning® Gorilla® Glass 6 touch display, IP65 rated, and 1.2M drop (1.5M with boot case)
Long-lasting removable 4000mAh battery (Up to 16 hours working time)
Support Bluetooth® 5 / dual-band WLAN, fast roaming / 4G LTE
Support MDM Software Solutions and utilities such as AirWatch, SOTI, and MoboLink.
High Performance 2D Scanner
The EA630 is built-in a megapixel 2D scanning engine (Honeywell N3603) featuring a laser aimer that enables the reading of high-resolution codes (down to 3 mils on Code 39 1D barcode) and it is available to read EAN 100% at 541 mm distance (typical read range). Moreover, it enhances the visibility to capture most 1D / 2D barcodes even in low light or bright light environments.
About Unitech: Unitech was founded in 1979 in Taiwan. As a global provider of AIDC (automatic identification and data capture) technologies with over 30 years experience, Unitech manufactures a wide range of Enterprise Mobile computers, Rugged handheld PDAs, Industrial Tablets, RFID Readers, Barcode Scanners, integrated T&A and Smart Living devices. Unitech products bring value to customers throughout the world in various industries, such as logistics, healthcare, retails, warehousing, manufacturing, transportation, and field service.
Videos
Downloads/Detailed Product Descriptions
Where is the price?
We do not show your pricing due to manufacturer discounts, current promotions, and other specials. Pricing can change on a whim so we only provide the best current price when you contact us.
I can get this product cheaper elsewhere, why should I buy from All Barcode Systems?
We are a Value-Added Authorized Reseller and part of an Authorized Reseller Network. We have strong relationships with all our manufacturers and brands so as an authorized reseller, our partners grants us additional benefits that we pass off to our customers:
Additional Discounts

 

– Manufacturers have special promotions all the time and we are able to pass those discounts to our customers when available.

Bulk Purchase Discounts

 

– Looking to supply an entire warehouse with labels? Barcode scanners? Printers? We offer discounts on all bulk purchases.

Premium Support

 

– We have over 30 years of experience so we will always be able to give you the support you need — over the phone, over email, or even in person if you're near.

Technical Support Access

 

– Because of our partnerships, we have access to manufacturer's technical support team — which we can utilize to support our customers as well.

Guaranteed Warranties

 

– As an authorized reseller, manufacturers will always honor their warranties since we are part of their Authorized Reseller Network.
Unfortunately, many online retailers have not been authorized by the manufacturers so it can be risky to purchase from them if support is needed.
Do you price match?
We will always try to give our customer's the best price but sometimes we may not be able to. Fortunately, we do promise that you'll be happy with the solutions, services, and additional benefits that we offer.
Okay, I want pricing — now what?
Contact us! There are many ways to contact us and we will respond with pricing and answers within 24 hours (weekends and holiday excluded).
Who is All Barcode Systems?
Summary:
We have over 3 decades of expertise & knowledge.
We're different from other companies — we'll show you all your best options, how to use something, & be your first line of support.
We offer products at BETTER prices on most items due to our business relationships with manufacturers and their distributors.
We'll do our best to beat all of our competitor's price.