Roll over image to zoom in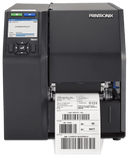 Description
Eliminate expensive compliance fees by producing 100% accurate barcodes, 100% of the time.
The ODV-2D is an affordable, fully integrated solution with the ability to print, verify, and validate 1D and 2D barcodes. The ODV-2D comes installed on either the T8000 or T6000e printers, or is available as a field kit for existing printers. The system grades barcodes to ISO 15415,15416 and 15426 standards and stores a detailed grading report, scanned data, and image of every label. Our exclusive technology reads each barcode, overstrikes a rejected barcode, and reprints a replacement label without operator intervention. The ODV-2D pays for itself by eliminating costly charge backs and fines for non-conforming labels. Advanced features allow it to integrate easily and quickly into existing applications.
Compliant Verification

Verifies full suite of 1D & 2D barcodes with up to 50 barcodes per label
Performs both data validation and compliance verification
Grades to ISO standards including Quiet Zone & Check Sum errors
Label back-up and overstrike to identify bad barcodes
Barcode "GPS" dynamically locates barcodes on a label by label basis to improve throughput
Productivity

Prints and verifies at up to 8 ips ODV-2D can read 1D and 2D barcodes in any 90° orientation
PrintNet Enterprise Auto ID provides global or enterprise wide network access, control, update and reporting
Compatible with third party label software through PXML data reporting
Most extensive suite of printer emulations in the industry
Dependable Design

Field kits available for both T8000 and T6000e printers
Pre-installed or available as a field kit for existing printers
No requirement for scheduled calibration or maintenance
Calibration check from printer's control panel using provided plaque
Works with a wide variety of label and ribbon types
About Printronix: For more than 40 years, Printronix has been addressing global customer needs for mission-critical industrial printing. Offering the two most-trusted brand names in back office and supply chain printing, Printronix and TallyGenicom, known throughout automotive, retail, food & beverage, government and utilities and transportation and logistics enterprises across the globe.
Videos
Downloads/Detailed Product Descriptions
Where is the price?
We do not show your pricing due to manufacturer discounts, current promotions, and other specials. Pricing can change on a whim so we only provide the best current price when you contact us.
I can get this product cheaper elsewhere, why should I buy from All Barcode Systems?
We are a Value-Added Authorized Reseller and part of an Authorized Reseller Network. We have strong relationships with all our manufacturers and brands so as an authorized reseller, our partners grants us additional benefits that we pass off to our customers:
Additional Discounts

 

– Manufacturers have special promotions all the time and we are able to pass those discounts to our customers when available.

Bulk Purchase Discounts

 

– Looking to supply an entire warehouse with labels? Barcode scanners? Printers? We offer discounts on all bulk purchases.

Premium Support

 

– We have over 30 years of experience so we will always be able to give you the support you need — over the phone, over email, or even in person if you're near.

Technical Support Access

 

– Because of our partnerships, we have access to manufacturer's technical support team — which we can utilize to support our customers as well.

Guaranteed Warranties

 

– As an authorized reseller, manufacturers will always honor their warranties since we are part of their Authorized Reseller Network.
Unfortunately, many online retailers have not been authorized by the manufacturers so it can be risky to purchase from them if support is needed.
Do you price match?
We will always try to give our customer's the best price but sometimes we may not be able to. Fortunately, we do promise that you'll be happy with the solutions, services, and additional benefits that we offer.
Okay, I want pricing — now what?
Contact us! There are many ways to contact us and we will respond with pricing and answers within 24 hours (weekends and holiday excluded).
Who is All Barcode Systems?
Summary:
We have over 3 decades of expertise & knowledge.
We're different from other companies — we'll show you all your best options, how to use something, & be your first line of support.
We offer products at BETTER prices on most items due to our business relationships with manufacturers and their distributors.
We'll do our best to beat all of our competitor's price.