Roll over image to zoom in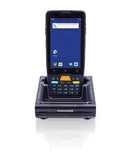 Description
Designed for any data capture application, from inventory to assisted sales, or back-end receiving to the warehouse, the Memor K mobile computer includes a powerful 2 GHz octa-core processor with 3 GB of memory. It also delivers ruggedness, power and performance in a smartphone form factor with the user-friendly experience of Android.

The soft-touch, backlit keyboard allows users to quickly type in information such as quantity, description or location of any item scanned.

The Memor K provides powerful wireless connections: the performing Wi-Fi connection which includes AC standard allows users to access very fast download and upload connections; USB-C ensures exceptional data exchange and charging speeds; Bluetooth® 5 BLE guarantees excellent performance with BT devices, while NFC allows easy connecting with NFC devices.

Memor K can cover many applications and many shifts with its replaceable battery. If a user runs out of power, they can simply take a new battery from the cradle and quickly replace it for another 12 hours of work.

Additionally, an 8 MP rear camera also helps to capture images and documents, proof of repairs, damaged products/packages, proof of maintenance and asset condition.
About Datalogic: Datalogic is an industrial group which has been listed on the Italian stock exchange since 2001. It focuses on due specific markets: Automatic Data Capture and Industrial Automation, managing operations through two dedicated divisions, which are supported by the Business Development Division.
Videos
Downloads/Detailed Product Descriptions
Where is the price?
We do not show your pricing due to manufacturer discounts, current promotions, and other specials. Pricing can change on a whim so we only provide the best current price when you contact us.
I can get this product cheaper elsewhere, why should I buy from All Barcode Systems?
We are a Value-Added Authorized Reseller and part of an Authorized Reseller Network. We have strong relationships with all our manufacturers and brands so as an authorized reseller, our partners grants us additional benefits that we pass off to our customers:
Additional Discounts

 

– Manufacturers have special promotions all the time and we are able to pass those discounts to our customers when available.

Bulk Purchase Discounts

 

– Looking to supply an entire warehouse with labels? Barcode scanners? Printers? We offer discounts on all bulk purchases.

Premium Support

 

– We have over 30 years of experience so we will always be able to give you the support you need — over the phone, over email, or even in person if you're near.

Technical Support Access

 

– Because of our partnerships, we have access to manufacturer's technical support team — which we can utilize to support our customers as well.

Guaranteed Warranties

 

– As an authorized reseller, manufacturers will always honor their warranties since we are part of their Authorized Reseller Network.
Unfortunately, many online retailers have not been authorized by the manufacturers so it can be risky to purchase from them if support is needed.
Do you price match?
We will always try to give our customer's the best price but sometimes we may not be able to. Fortunately, we do promise that you'll be happy with the solutions, services, and additional benefits that we offer.
Okay, I want pricing — now what?
Contact us! There are many ways to contact us and we will respond with pricing and answers within 24 hours (weekends and holiday excluded).
Who is All Barcode Systems?
Summary:
We have over 3 decades of expertise & knowledge.
We're different from other companies — we'll show you all your best options, how to use something, & be your first line of support.
We offer products at BETTER prices on most items due to our business relationships with manufacturers and their distributors.
We'll do our best to beat all of our competitor's price.